Dragi naši čitaoci, eto nema ni mesec dana kako je izašla prva grafička kartica Nvidia gtx 700 serija kao da već default geforce gtx 780 nije dovoljno brz, Gigabyte je izbacio overklokovanu vezrziju sa super tihim i hladnim Windforce kulerom sa 3 venta koji spuštaju temeperaturu u punom opterećenju na fantasticnih 60-ak celzijusa.
S obzirom da je ova verzija grafičke skoro jaka kao gtx Titan može se predpostaviti da koristi istu arhitekturu tj famozni gk 110 grafički procesor koj ima zastrašujući broj od 7.1 Milijardi tranzistora. To vec znači da je znatno jača od gtx 680 a i tako se pokazala i u naj aktuelnijim igrama u kojim smo je testirali kao sto su Metro:Last light,Battlefield 3, Sleeping dogs, Far Cry 3, Medal of Honor Warfighter, Hitman:Absolution i mnogih drugih.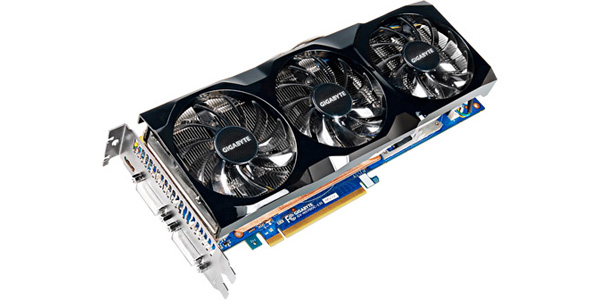 Kad smo već kod sličnosti sa gtx Titanom razlika je u sejderskim jedinicama, broj je znatno manji 2304 sejdera u odnosu na Titana koji ima 2688 i naravno za one koje imaju King size monitore mozda vam ne bi odgovarala 3 gb ddr 5 memorije u odnosu na Titana koji ima 6 gb,potrošnja struje je nekih 250 wati ili u prevodu ništa manje od nekog brendiranog napajanja koje ima makar 650 wati.
Sve u svemu Titanov mlađi brat ima dosta potencijala i sigurno mnogo pametniji izbor ako nemate brdo para, takt grafičkog procesora je na 954 mhz  u odnosu na standardnu verziju koja ima 863 mhz.  Softver sa kojim se to lepo i lako overklokuje  a koji se zove Gpu Boost 2.0 može da izgura 1006 mhz u odnosu na 900 sa standardnom verzijom. Sve u svemu ovo je prava stvar za prave tvrdokorne gejmere koji su ipak dugo želeli da imaju Titana al nisu ga mogli priuštiti, eto i ovo je nešto pristupačno i skoro jako kao famozni Gtx Titan.