Predstavljamo vam nešto novo na tržištu a to je jedan od prvih SLIM gejmerskih lap topova koji nam dolazi od kompanije Razer. Kao prvo debljina uređaja je šokantnih 2 cm, a što je fantastično šta je sve ugurano u prelepom aluminijumskom kućištu će vas raspametiti.
Tu je procesor Intel  Core I7-4702HQ koji ima četiri jezgra koji radi na takt os 2,2 ghz ali tu je Turbo boost koji mu podigne takt čak do 3,2 tu je naravno fantastična Geforce GTX 765M sa 2gb gddr5 video memorije. Verovatno se pitate kako tako jake komponente opstaju zbog silne toplote u ovako malom kućištu… rešenje je u specijalnom dizajnu koji svu toplotu odvodi kroz mrežu cevastih komora na zadnji deo laptopa gde se nalaze dva mala ali snažna turbinska ventilatora. Sve u svemu mogu da kažem da laptop tako ohladjen ne bih preporučio da držite u krilu ako ne želite da vam se skuva dečiji dodatak.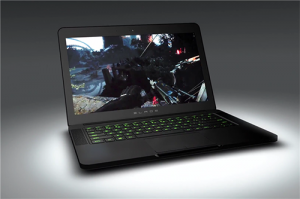 Monitor je naravno 14 inča sa lepom 1600 x 900 rezolucijom. Po testovima aktuelnih igara moglo bi da se kaže da što se tiče gejmerskih laptopova daje zavidnu brojku frejmova u sekundi. Zvuk je ok ali se preporučuju neke od Rejzerovih slusalica kako bi ugođaj bio potpun. Jedina mana za sada koju vidimo to je da ne postoji fizički priključak za mrežu već je tu integrisana kartica u samoj mašini. Sve u svemu jedna vrlo elegantna i moćna mašina koja će oduševiti mnoge hardkor gejmere koji žele da uživaju u novim igrama gde god da su.