Na kojim sve internetskim servisima imate korisničke profile? Jeste li pokušali obrisati svoj profil s njih? Možda ste i probali, ali i odustali jer vam se nije dalo/nije vam bilo bitno/bilo je komplikovano. Zbog toga se u bespućima interneta nalazi mnoštvo vaših neaktivnih korisničkih profila. No, ako se ikada odlučite na čišćenje tog zametnutog nereda, jedan bi vam servis itekako mogao biti od pomoći – justdelete.me.Princip po kojemu radi ovaj projekt vrlo je jednostavan – reč je o direktorijumu linkova koji vode do mesta na kojem možete obrisati svoj korisnički profil sa željenog web servisa. Kako navodi Mashable, kreator servisa je britanski developer Robb Lewis, koji objašnjava kako mnoge firme koriste tehniku zvanu Dark Pattern za otežavanje brisanja korisničkih profila. Zbog toga Justdelete.me, osim što upućuje na mesta na kojima možete obrisati korisničke profile ili barem doznati na koji način to napraviti, prikazuje i koliko je teško te je li uopšte moguće obrisati korisnički profil.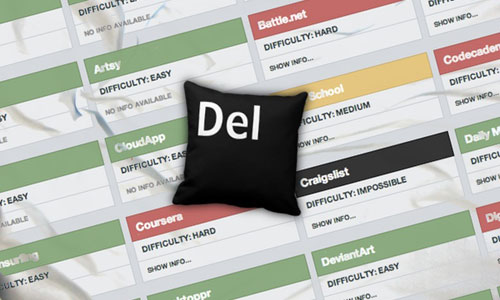 Instagram profil lako se briše, Pinterest nikako
Tako je Instagram označen zelenom bojom, što znači da je korisnički profil vrlo lako obrisati, Path je narančast, jer ćete se ipak morati malo potruditi (profil se može obrisati isključivo putem mobilne aplikacije, ne i putem weba). Crvenom su bojom označeni servisi na kojima se ne može obrisati korisnički profil bez kontaktiranja službe za korisnike (kao što je to slučaj kod iTunesa/Apple ID-a), dok su crnom bojom označeni servisi kod kojih se korisnički profil uopšte ne može obrisati. Recimo, to je slučaj kod Pinteresta, gde se korisnički profil može deaktivirati, ali pinovi i profil ostaju skriveni, odnosno, nisu obrisani.Ako niste pronašli servis koji vas zanima, možete ga dodati putem Githuba. Također, postoji i ekstenzija za Chrome koja će vam još više olakšati korištenje ovog servisa – kada dođete na stranicu koja se nalazi u direktorijumu servisa Justdelete.me, u desnom uglu trake koja prikazuje web adresu prikazat će se tačka, čija boja ovisi o tome koliko je lako obrisati profil. Prelazom preko nje pokazat će se objašnjenje kako se može obrisati korisnički profil s navedene web stranice, a klikom se odlazi na mesto gdje se profil može obrisati.
Jeste li i sami imali iskustvo s težim brisanjem korisničkog profila?