Vrlo dobra gamerska tastatura koja se odlikuje vizuelnim svetlosnim efektima, ali i vrlo respektabilnim mogućnostima
Geniusova poznata serija gaming periferije GX Gaming donosi novu zanimljivu tastaturu imena Manticore. Radi se o odličnom spoju vizuelnih efekata i visoke funkcionalnosti za široku gaming populaciju različitih žanrova. Osim osvetljenja koje odlično izgleda, tstatura je obogaćena sa 8 programabilnih tipki i 6 tipki raznolikih funkcija uključujući i kontrolu jačine osvetljenja tastature.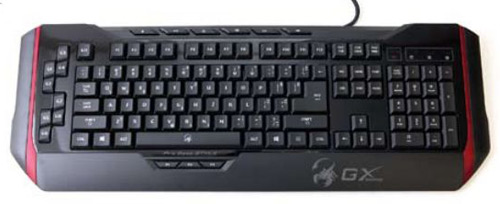 Vizualno efektna
Prvo što primećujemo kod tastature je izvrstan dizajn, dimenzije i raspored. Tastatura je nešto duža od prosečnih gaming tastatura, a raspored svih tipki je sjajno zamišljen. Kao takva je zamišljena za široku ponudu računarskih igara, stoga je prilagodljiva apsolutno svakom igraču.
Ono što svi volimo kod ovakvih tastatura su svetleće tipke. Vrlo praktična stvar, mogućnost korištenja tastature u potpunom mraku je skroz izvediva. Ukoliko vam se ne sviđa osvetljenje, možete to isključiti pomoću za to predviđene tipke ili ako ništa drugo smanjiti je na nešto slabiju razinu ako vam se čini da vam je svetlost prejaka. Svetlost je raspoređena na tri dela, tako da je deo sa slovima u crvenoj boji, deo sa strelicama, home, scroll lock i ostalim funkcionalnim tipkama zelene boje, a numerički deo je plave boje.
Strogo sa leve strane nalazi se osam G tipki koje su programabilne putem softvera, a sa gornje strane imamo šest tipki raznih funkcija kao što su kontrola svetlosti, play/pause, regulacija zvuka, mute tipka i MR tipka. Jedini minus kojeg ćemo spomenuti kod dela sa tipkama za unos teksta je backspace, koji je minijaturno napravljen.
Praktičnost i jednostavnost
Ono što nam se svakako sviđa kod ove tastature je mogućnost prilagodbe apsolutno svim igrama koje možete zamisliti. Tastaturu smo testirali na RTS igri Shogun Total War, na FPS naslovu Battlefield 3, na sportskoj igri Fifa 14 i na MMORPG igri Star Wars The Old Republic. Ciljano smo odabrali tačno tri igre zbog mogućnosti kreiranja tri različita profila.
Na donjem delu tastature nalaze se tri tipke, P1, P2 i P3. Radi se o quick tipkama koji služe za momentalnu promenu prethodno iskonfiguriranih profila. Pritiskom na jednu od tih tipki tastatura se odmah prebacuje na željeni profil i same funkcije G tipki koje su sa leve strane dobivaju onu funkciju koja im je prethodno zadana. Zapravo će te tipke uglavnom koristiti igrači MMO i RTS naslova za neke brze napade, spellove, odabir unapred memorirane vojne jedinice i slično.
Odlična izrada, jednostavna varijanta programiranja tipki i vrlo praktično menjanje profila čine ovu tastaturu vrlo zanimljivom opcijom za sve igrače.