O malo poznatoj kompaniji Oppo retko je ko od zapadnih korisnika pametnih telefona čuo. No, situacija je takva da zapadnjaci sve više kupuju mobilne telefone s istoka jer uz odličan dizajn i solidne karakteristike imaju i super cenu. Kinesko tržište pametnim telefonima sve više raste, a to omogućava razvoj sve boljih pametnih telefona. Jedan takav ponudio nam je upravo Oppo koji je u javnost plasirao najtanji telefon trenutno na tržištu.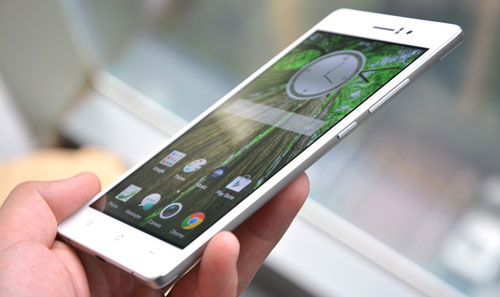 Svi se sećamo dana kada su telefoni bili široki i po nekoliko centimetara, ali danas je situacija totalno drugačija. Trend koji je u informatici oduvek bio popularan je napraviti što bolji uređaj a da bude što manjih dimenzija. Svi veliki igrači na tržištu (pa i oni manji) trude se napraviti što tanje pametne uređaje. Koliko smo upoznati s ponudom, trenutno nije postojao na tržištu pametni telefon koji bi bio tanji od 5 milimetara. No, Oppo je to promenio i njegov ultra tanki telefon Oppo R5 broji svega 4,85 milimetara. Ovo je vrlo zavidna brojka, no ipak na uštrb dimenzije Oppo ima jedno značajno ograničenje – kapacitet memorije.
Baterija ovog uređaja kapaciteta je samo 2000 mAh što ne pruža baš dugi rad na uređaju. No, nasuprot tome stoji tehnologija koja omogućava brzo punjenje, pa je tako uređaj moguće do 75 posto kapaciteta napuniti za svega pola sata. Ukoliko nemate pola sata, tada imate priliku spojiti pet minuta telefon na struju i to će vam omogućiti dva sata bezbrižnog telefoniranja. Ostale karakteristike ovog pametnog telefona su relativno dobre pa tako telefon ima: težinu od svega 155 grama, 5.2 inčni displej s rezolucijom 1920×1080, Sonyjevu 13 MP kameru koja ima mogućnost snimanja 4K, 2GB RAM-a te 16 GB memorije za pohranu podataka. Ovaj najtanji telefon na tržištu uskoro ćete moći pronaći u web trgovinama po ceni od 499 dolara.