Ljudi su toliko postali opsednuti vremenskom prognozom da to ne sluti na dobro. Da li ih "gura" priča o ozonskim rupama, globalnoj promeni klime ili otapanju polarnih kapa, nije toliko ni bitno. Ono što jeste bitno je to da su se proizvođači namenskih programa toliko razmahali da ih ima svugde. Podatke o vremenskim prilikama, tako, možete da dobijete u svim oblicima i veličinama, na bilo kom mestu. Postavlja se pitanje da li ste za tako nešto spremni i da platite?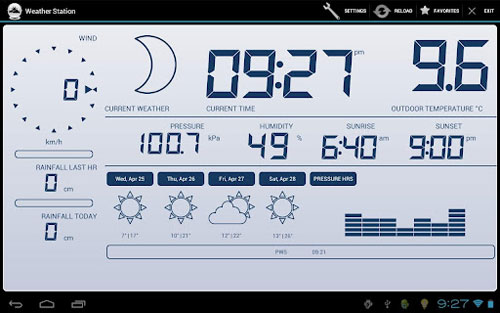 Ako je odgovor potvrdan, preporučujemo program softverske grupe Draco Systems – Weather Station. On donosi finu grafičku košuljicu, sijaset načina za prikazivanje podataka na ekranu, te nekoliko zanimljivih opcija ispod haube (recimo, mogućnost biranja servisa za pribavljanje podataka o vremenu). Pored četiri vidžeta različitog sadržaja i veličine, na raspolaganju je prikaz u horizontalnom i uspravnom položaju. Ovo napominjemo zato što program nudi različite informacije u zavisnosti od toga kako je uređaj okrenut. Ne znamo koliko je ovo korisno, ali je svakako zanimljivo. Bitno je reći da na ekranu imate predviđene vremenske prilike za do pet dana unapred (bez tekstualnog opisa, samo ikonica i minimalna/maksimalna temperatura), sat, pravac i jačinu duvanja vetra, barometarski pritisak, količinu padavina, vlažnost vazduha, trenutnu temperaturu, pa čak i podatke o izlasku i zalasku sunca, te UV zračenju.
Program se nameće upravo širinom prikaznih podataka, odnosno njihovom dostupnošću pogledom na ekran. Na meniju je i podrška za tablet uređaje i HD rezolucije.