Na tabletu možete da kucate, ali ako se radi o većem tekstu, ekran će teško zameniti pravu, fizičku tastaturu. To je imao na umu i Logitech kada je kreirao Ultrathin Keyboard Cover za iPad.
Ultrathin Keyboard Cover je namenjen iPad‑ima druge, treće i četvrte generacije, a nedavno je predstavljen i model namenjen novom iPad Air‑u. Tastatura se uparuje s iPad‑om putem Bluetooth‑a, sa strane ima on/off taster, taster za uključivanje i isključivanje Bluetooth‑a, te micro USB ulaz. Funkcioniše po principu magneta i ponaša se kao dock u koji ćete priključiti svoj iPad. Nakon što je vaš uređaj prepozna, spremni ste za rad.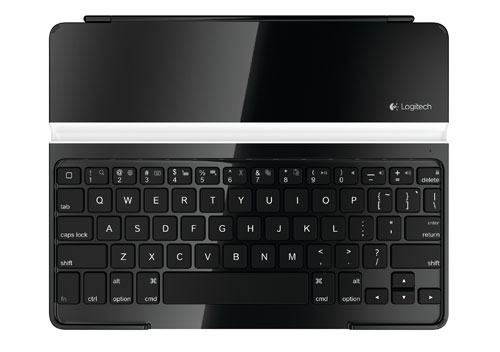 Pozicija na koju se iPad postavlja, otprilike na trećini tastature posmatrano po širini, uz kosi ulaz, čini da tablet stoji stabilno. Možete da ga držite čak i na kolenima ako niste u kancelariji ili nemate radni sto u blizini, a iPad će opet ostati stabilan na postolju. Micro USB port služi za punjenje tastature čija baterija, pri korišćenju od dva sata dnevno, može da vam služi čitavih šest meseci.
Tastaturu odlikuje standardna Logitech udobnost – nije pune veličine, ali se na njoj brzo kuca. Posebno je zanimljivo to što može služiti i kao cover koji se povezuje magnetom, baš kao Apple Smart cover; samo preklopite iPad i na taj način zaštititi ekran. Nema brige oko grebanja ekrana tasterima, jer se na ivicama tastature nalaze mali gumeni delovi koji sprečavaju direktan kontakt. Ako želite potpunu zaštitu od grebanja, moraćete ipak da kupite i neku futrolu u kojoj ćete ih nositi, pošto ovaj cover ne štiti zadnju stranu iPad‑a.
Logitech se potrudio da, osim funkcionalno, Ultrathin Keyboard Cover bude i dobar vizuelni partner vašeg iPad‑a, pa je zadnja strana izrađena od aluminijuma, a sama tastatura dostupna je u više boja (crnoj i beloj, kao i iPad, ali i crvenoj i roze). Teška je 355 grama, a tanka nepun milimetar i košta 99,99 dolara.