Ako želite da iz nekog razloga prebacite vaš web sajt iz Drupala ili Joomla-e u WordPress, ovo je odlično rešenje za vas. CMS2CMS je online alat koji vam omogućava da jednostavno prebacite postojeći web sajt koji je zasnovan na Joomla-i ili Drupalu u WordPress. Ovaj automatizovani sistem za organizovanje sadržaja je u potpunosti web-zasnovan i podržava migraciju tekstualnog sadržaja, kategorija, tagova, korisnika, slika u postovima i komentara u postovima. Možete da prebacite web sajt na self-hosted WordPress sajt ili na jedan od WordPress.com sajtova.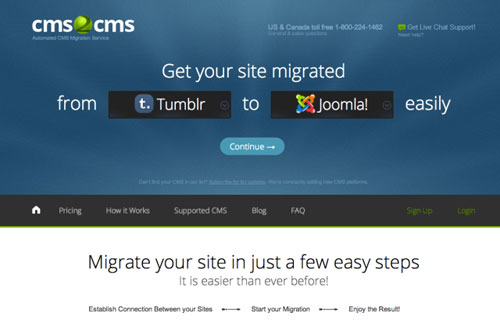 Da biste prebacili sajt iz Drupala ili Joomla-e u WordPress, uradite sledeće:
Preuzmite i instalirajte WordPress na vaš novi web host da biste ga učinili online dostupnim. Ako je vaš sajt hostovan na WordPress.com-u pređite na sledeći korak.
Otvorite web sajt CMS2CMS i u odgovarajuća polja unesite URL vašeg izvornog sajta (Joomla ili Drupal) i ciljnog sajta (WordPress).
Registrujte nalog na web sajtu CMS2CMS tako što ćete uneti vaše ime, email adresu i lozinku.
Preuzmite Bridge fajl, raspakujte ga i aploudujte ga u root direktorijum na oba vaša sajta. To će omogućiti razmenu podataka između dva web sajta.
Nakon aploudovanja fajla, kliknite na dugme Verify Connection to your Sites da biste proverili da li je sve u redu i da most ispravno funkcioniše. Ako je sve u redu, bićete prebačeni na sledeći korak.
Počnite proces migracije tako što ćete kliknuti na dugme Run Migration.
To je sve! Koliko će ovaj proces trajati zavisi od količine informacija koje treba da budu prebačene. Kada se migracija završi, bićete obavešteni email porukom.