Za probirljive korisnike, Samsung je spremio naslednike čuvene serije 830 SSD diskova
Sjajnom 830 serijom Samsungmje stekao solidnu reputaciju, pogotovo na evropskom tržoštu, pa je serija 840 očekivana s nestrpljenjem. Samsung je ponudio nove SSD diskove u dve varijante. Osnovni modeli nude sada uobičajenu TLC NAND tehnologiju u kojoj jedna SSD ćelija da zapamti tri bita, a pažnju bismo skrenuli na modele Pro serije kojima Samsung "gađa" ambicioznije korisnike kod kojih je hard disk uposlen gotovo neprestano. Kod serije 840 Pro Samsung je zadržao MLC NAND tehnologiju u kojoj jedna ćelija memoriše samo jedan bit, ali su brzine čitanja i upisa znatno poboljšane. Bitnija stavka za profesionalce može biti očekivani životni vek, jer TLC ćelije izdržavaju oko 10000 ciklusa (čitanje/pisanje), dok je za MLC ćelije ova brojka veća za red veličine. Sa oko 10000 ciklusa upis/čitanje, očekivani životni vek ovih diskova penje se na desetak godina, što je znatno više od uobičajenih ciklusa obnavljanja opreme. To seriju 840 Pro preporučuje za instalacije u kritičnim misijama. Brzinu značajno uvećava i novi MDX kontroler u disku koji ima čak tri ARM Cortex R4 jezgra.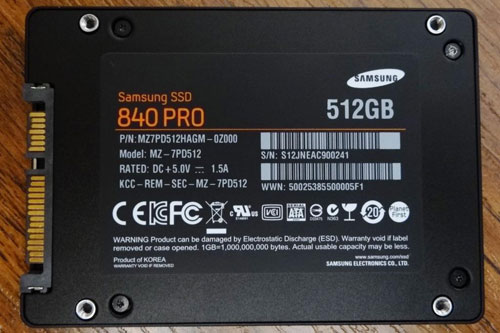 Serija 840 spada u SATA 3 uređaje, što je osujetilo naše pokušaje da potvrdimo rezultate testova koji ukazuju na čitanje brzinom do 540 MB/s i pisanje brzinama do 52 MB/s. Zbog SATA 2 kontrolera, sve brzine koje smo izmerili su bile "zakucane" za liniju oko 230 MB/s, ali to je znatno više od onoga što daju klasišni hard diskovi, pa ovim modelom možete značajno unaprediti (i smanjiti potrošnju) svog notebook-a. Ovo je jedan od dobitaka koji se u praksi oseća mnogo više nego što brojke govore, a cena od 135 evra za model od 128 GB nije više tako velika da biste se mnogo premišljali.
Ako većinu stvari držite na mrežnim diskovima ili u oblaku (kao što trendovi nalažu), neće vam smetati ni relativno mali kapacitet. Naravno, za maksimalne performanse i životni vek poslušajte naše savete za korišćenje SSD-a: isključite indeksiranje, prefetch i superfetch, ne koristite defragmentiranje diska, a u BIOS-u uključite AHCI način rada.