Premium ultrabook s touch ekranom i Windowsom 8 – Acer Aspire S7
Iako je u zadnje vreme pomalo utihnula, žestoka borba za poziciju najboljeg ultrabook računara tu i tamo izrodi potpuno novi model. Acer je predstavio model koji je u samom vrhu ponude po svim ultrabook kriterijumima.
Staklen i tanak
Izuzetno tanak i lagan 13,3 inčni ultrabook na prvi pogled ostavlja bez daha. Minimalistički beli dizajn upotpunjen staklenom pozadinom poklopca, baš kao i na Envy Spectru, a uz to i Acerov logo svetli ugodnom plavom bojom.
Unutrašnjost je isto tako u staklu, odnosno Gorilla staklu koji čuva FullHD touch screen ekran. Dodirni ekran idealno radi u sklopu Windowsa 8, čiji je ovo zapravo jedan od debija u ultrabook segmentu. Kvaliteta prikaza je vrhunska, daleko bolja od ičega što smo do sada videli, ali to je inače i popratna pojava svih touch screen ultrabookova koje smo do sada vidjeli.
Žive boje, odličan kontrast, te izuzetni dobri kutovi gledanja u cijelosti upotpunjuju vizualno iskustvo. Nekima će se FullHD rezolucija učiniti možda i prevelikom, no to u praksi znači još više radnog prostora na tako maloj rezoluciji.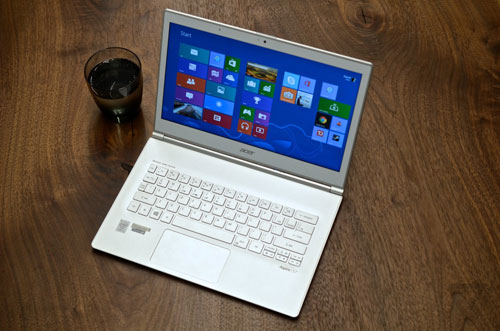 Standardni ultrabook unutra
Touchpad je odličan, velik i respozivan, dok je osvetljena tastatura vrlo prostrana, ali možda preplitka. Šarke ekrana su izuzetno čvrste, a još dodatno očvrsnu kada ekran otvorite do određene pozicije, baš u nameri da se ne miče toliko kada koristite touch screen. Hardverski gledano, ostatak komponenti je poprilično standardan za jedan ultrabook, Core i5 – 3317U (koji radi na 1,7 GHz) uz integrisanu HD 4000, 4 GB RAM-a, te 128 GB SSD-a.
Iako će baterija potrajati uglavnom više od 3 sata, nekako se očekuje i više od toga. S7 se pokazao vrhunskim uređajem, neporečivih kvaliteta, ali i upitno opravdane cene.